Summer Essentials Travel Pack
$ 49.99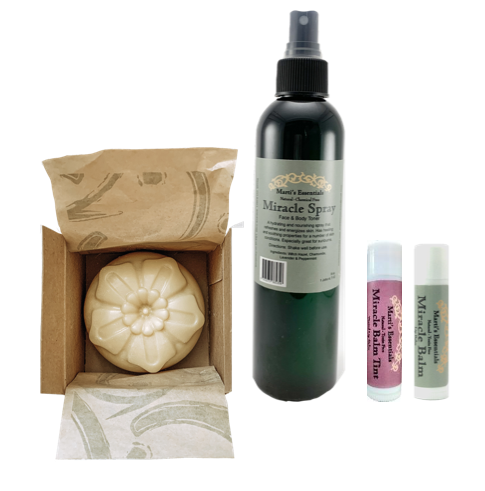 Summer Essentials Travel Pack is exactly what you need to nourish and care for your skin all summer long.  The Summer Pack contains some of our favorites and is perfect for moisturizing your body, face, and lips before and after sun.  
Miracle Bar is made with the finest butters and essential oils, known to promote healing.  A multi-use moisturizer and cleanser in one.  (3 oz bar)
Miracle Spray is a hydrating face and body toner that refreshes and energizes skin.  Ingredients have been know to have nourishing and soothing properties for a number of skin conditions.  Great for sun burns! (5 oz bottle)
Miracle Balm is loaded with high quality essential oils that can be used for so much more then just your lips.
Miracle Balm Tint, like our lip balm is a perfect combination of cocoa butter and essentials oils with just a hint of tint.  Pretty and pink and ready for summer.
Travel Pack contains Miracle Bar 3 oz bar with small travel tin (not pictured), Miracle Spray 5 oz bottle, Miracle Balm 0.15 oz tube, Miracle Balm Tint 0.15 oz tube.